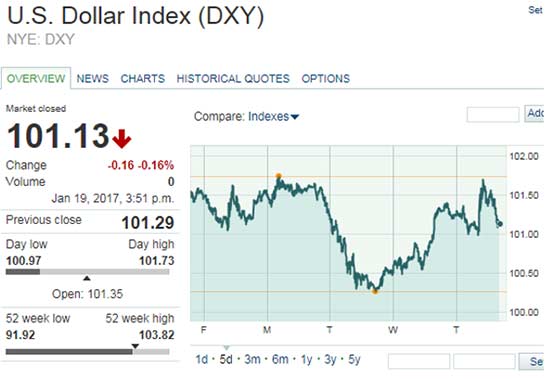 wallstreetexaminer.com / by Peter Krauth via Money Morning / 
While stocks, oil, and the dollar endured volatility, gold prices steadily climbed higher throughout the week.
There's little doubt that the inauguration of Donald Trump has had a lot to do with gold's strength over the past few weeks. Americans – and much of the rest of the world – know very little about what Trump's plans are, much less what he will actually do.
He's made all kinds of noise about tax cuts, import duties, renegotiating or scrapping trade deals, and possibly even aggressive geopolitical stances.
But one of Trump's concerns is the U.S. dollar. And one recent statement he made on the dollar could start a bull run for gold prices in 2017.
Before we get to that, here's why the price of gold is up this week…
Gold Prices in 2017 Continue Winning Streak This Week
After spending the previous trading week climbing steadily towards $1,190, the gold price refused to step back.
It ended Friday, Jan. 13, near the important $1,200 mark, closing out the day at $1,197.
The post Gold Prices in 2017 Will Be Lifted by Donald Trump appeared first on Silver For The People.