Be prepared for the next great transfer of wealth. Buy physical silver and storable food.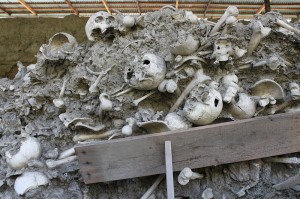 endoftheamericandream.com / May 16, 2012
Today, there are more than 7 billion people living on earth.  For the global elite, that is problem number one.  The vast majority of us don't spend much time thinking about global population issues, but for many among the elite it is an absolute obsession.  Many of them truly believe that you are ruining theirplanet and they desperately want you to stop reproducing so much.  Among the elite, the belief that the world is grossly overpopulated and that this is causing most of our major global problems crosses all political, cultural and social boundaries.  This philosophy is taught as gospel at the vast majority of all colleges and universities on the planet, and it is being relentlessly pushed by the United Nations, the WHO, the World Bank and national governments all over the globe.  When most people think of "overpopulation", they think of places such as India, but the truth is that those of us living in America are considered to be the worst offenders because our lifestyles are "polluting" the planet so rapidly.  In fact, one scientist recently estimated that a child born in the United States has a "carbon legacy" 55 times greater than a child born in India.  The elite are convinced that if they can reduce the global population far enough and get the remaining people living on earth to switch over to "sustainable lifestyles" that they will be able to save "their" planet.  But the draconian measures that would be necessary to achieve this dystopian dream would not be very palatable to the vast majority of us.  In fact, if the most radical population control advocates get their way, we will experience global tyranny on a scale never seen before.
Right now, most of us living in the western world are not prepared to accept "forced" population control measures and the global elite know this.  But the truth is that they absolutely love what is going on right now in places such as China.
Thanks to BrotherJohnF