Be prepared for the next great transfer of wealth. Buy physical silver and storable food.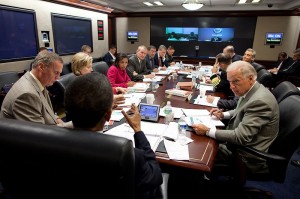 endoftheamericandream.com / May 22, 2012
Should it be legal for the U.S. government to spend billions of dollars on propaganda designed to change public opinion in the United States? Should it be legal for the U.S. government to use television, radio, newspapers, Facebook, Twitter, YouTube, blogs and Internet forums to conduct "psychological operations" targeted at the American public? An amendment that has been added to a new defense bill in Congress would make it legal to target propaganda and "psychological operations" directly at U.S. citizens. The latest version of the National Defense Authorization Act would overturn the Smith-Mundt Act of 1948 and the Foreign Relations Authorization Act of 1987. Those two laws essentially make it illegal for propaganda that is used to influence public opinion overseas to be targeted at U.S. citizens back here at home. If those two laws are struck down, there will be essentially very few limits to what the U.S. government can do to shape our opinions. The government would be able to bombard us with propaganda messages on television, on the radio, in our newspapers and on the Internet and there would not even be a requirement that those messages be true. In fact, just as happens so often overseas, it would likely be inevitable that the government would purposely disseminate misinformation to the American public for the sake of "national security". That is why it is imperative that this bill not become law.
As an article posted on LegalInsurrection.com correctly noted, this bill has already been passed by the U.S. House of Representatives….
Their bill was included as amendment 114 to the Defense Authorization Act and passed out of the House on Friday, May 18. It would amend two existing acts: the Smith-Mundt Act of 1948 and the Foreign Relations Authorization Act (1987).
Fortunately, it looks like this amendment might run into some trouble in the U.S. Senate. But during an election year, not many politicians want to appear "soft" when it comes to national security, so it is definitely not a sure thing that the Senate will reject this amendment.
This amendment has been kind of "flying under the radar", so now would be a good time to contact your U.S. Senators and let them know exactly how you feel about this.
Thanks to BrotherJohnF