Be prepared for the next great transfer of wealth. Buy physical silver and storable food.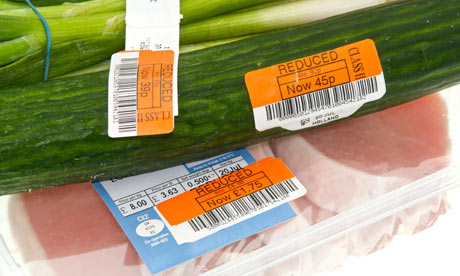 Cash-strapped consumers are changing the way they shop to take advantage of cheap food deals. Photograph: David Cole/Alamy
guardian.co.uk / By Rebecca Smithers and Fiona Harvey / Friday 12 October 2012 10.03 EDT

Affordability is now the key factor for grocery shoppers, with ethical considerations least important
It was the £1.99 Tesco chicken that, four years ago, came to symbolise cheap supermarket food and helped to galvanise consumers into questioning the provenance and economics of the staple items in their shopping basket.
In its new branch in Saxmundham – the Suffolk market town that even longer ago famously fought off plans for an out-of-town Tesco superstore – the £4 fresh chickens in the chiller cabinet are being ignored by the late afternoon shoppers who are favouring items covered in "reduced" stickers.
Among them is mother-of-two Jackie Long, who has popped in on her way home from work and picked up a 2.5kg bag of Maris Piper potatoes which has been further discounted to 95p. "They'll last another week, mashed, chipped and in stews," she says. "I do my main weekly shop at the Co-op but this is on my way home and around teatime they tend to slash the prices. I have really noticed prices going up in the last six months, particularly of things like bread, coffee and fresh fruit. They've all become a bit of a luxury."
A straw poll of customers at this store – just across the road from its arguably more well-heeled and soon-to-expand competitor Waitrose – reveals that shoppers of all ages and from all social backgrounds are more worried about price hikes than anything else when it comes to making their produce choices.
This mirrors findings from a recent government survey which showed that in May the main food issue of concern to 63% of respondents was food prices – an increase from 60% in November last year.
Even ethical considerations have dropped down their list of considerations, according to a separate survey by charity IGD ShopperVista which showed that price is crucial in determining product choice, with 41% of shoppers naming it as the most important factor and 90% listing it within their top five influences. Ethical provenance was considered least important – mirrored in the 3.7% slump in sales of organic food and drink last year.
Thanks to BrotherJohnF