Be prepared for the next great transfer of wealth. Buy physical silver and storable food.
by Charles Hugh Smith
Of Two Minds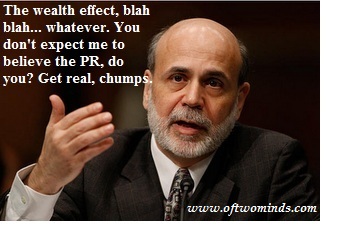 Our April Fool's wish: someone in the inner circle of power would finally tell the truth.
In an unprecedented abandonment of his carefully scripted responses to Congressional questions, Federal Reserve Chairman Ben Bernanke unleashed what appeared to be a heart-felt and spontaneous disavowal of the financial and political systems of the United States.
Asked a question about the wealth effect, Bernanke paused and said, "The wealth effect. Ah, right." He then smiled faintly and shook his head. "You want to know about the wealth effect? Well, I'll be candid with you. This whole thing is a kleptocracy–the financial system, the political system, it's one big kleptocracy. That's the real wealth effect."
Seeming to find his footing, Bernanke continued with a passion that startled the audience. "You know, I told myself to just repeat the party line for another year so I could step down quietly and let Yellen or another of the toadies take over, but I realized that I can no longer stomach the lies, the obfuscation and the plundering."