Be prepared for the next great transfer of wealth. Buy physical silver and storable food.
gold-eagle.com / By Adam Taggart / October 21, 2013
Gold finished Friday down -3.70 to 1316.10 on light volume, while silver was up +0.05 to 21.92 also on light volume.  After the big move Thursday, gold and silver seemed content to track mostly sideways within a narrow range.  Miners were off slightly; GDX down -0.49% GDXJ down -1.31%, both on light volume.  Within the PM complex it seemed to be a day of rest.
On the week, gold was up +43.50, silver up +0.59, GDX +5.77% and GDXJ +5.34%.
While GDX did well this week and miners are definitely responding to gold's move, it appears they are doing so with some skepticism.  Closing at the highs doesn't happen, mostly any big move in mining shares results in same-day profit-taking, and it appears that traders in mining shares are in a wait-and-see mode regarding PM pricing.  If gold continues up its likely this sentiment will likely change in time – but from what I see right now, sentiment in the miners remains poor.  It is likely that SPX moving to new highs is helping to keep sentiment low.  As with every market, SPX buyers will keep buying dips until that stops working, and that will keep money flowing into that area rather than the unloved mining shares.
Last week we were focused on gold's alarming break of support at 1275, this week we saw a test of 1250, and a high volume rebound.  If we look at the chart, we see that the amount of time spent below the 1275 level was quite brief, and this suggests to me that there are buyers waiting to scoop up COMEX futures and GLD shares whenever it dips below that level.  Without a bear raid into that zone, however, it is much more difficult to know such things – so we can thank the bears for performing this test for us.  At the end of this week, we see gold breaking and closing above the 7 week downtrend line.  We still need to see a close above 1331 to end the pattern of lower highs, but with the bullish move off 1251 it would seem this is more likely than not to occur.  We may at last have a trend change.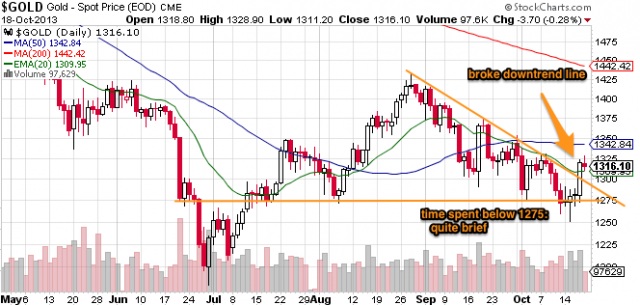 Thanks to BrotherJohnF