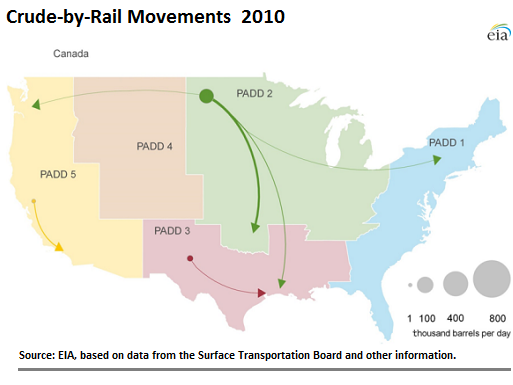 wolfstreet.com / by Wolf Richter • 
The aging pipeline system in the US wasn't built for the fracking boom. Shale oil production has soared in some areas that are not well integrated into the pipeline network. Primary among them: North Dakota, now the second largest producing state in the US, after Texas. Hence the use of trains to transport crude oil. To the greatest satisfaction of the railroads, Warren Buffet, tank-car makers, tank-car leasing companies, and the like.
At first, say in 2010, it wasn't a big deal. Only 55,000 barrels per day were shipped from the Bakken in North Dakota to other areas in the US. But as production in the Bakken soared, so did shipments by train, punctuated by derailments in Canada and the US that led to some horrific explosions and loss of life.
Now it is a big deal – including for the communities through which these trains rumble: oil train shipments in 2014 exceeded 1 million barrels per day, or about 11% of US oil production.
Oil trains had another quirk: the monthly petroleum supply statistics the Energy Department's EIA collects and publishes included crude oil movements by pipeline, tanker, and barge. But not by oil train. So now, for the first time, the EIA is gathering oil-train data, which as it says, "dramatically reduces the absolute level of unaccounted for volumes" – emphasis by the EIA – in its monthly balances for each region.
So it just released its first "CBR" (crude by rail) data set for January, and time-series maps going back to 2010, when it all started in earnest.
The post This Is Where the Oil Trains Are Going appeared first on Silver For The People.