Be prepared for the next great transfer of wealth. Buy physical silver and storable food.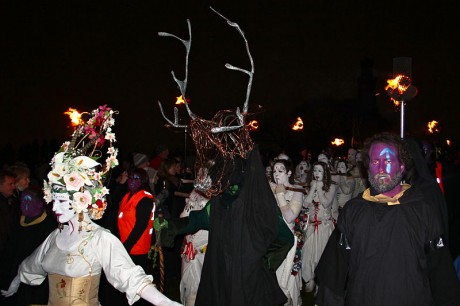 endoftheamericandream.com / By Michael Snyder on March 31st, 2016
Is it just a coincidence that reproductions of the 48-foot-tall arch that stood in front of the Temple of Baal in Palmyra, Syria are going to be put up in Times Square in New York City and in Trafalgar Square in London exactly 13 days before Baal's biggest day of the year?  In the occult world, 13 is the number of rebellion, and these arches are going to be put on display precisely 13 days prior to the major occult holiday of Beltane on May 1st.  In a previous article, I explained that the chief god of ancient Babylon named Marduk eventually came to be known as "Baal" or "Bel" which both mean "Lord".  As worship of this ancient deity spread all over the globe, sometimes this language was retained, and this is definitely true when it comes to "Bel-tane" or "Baal-tein".  Beltane can be translated as "Baal fire", and even many Wiccans acknowledge that this festival has origins which can be traced all the way back to the Baal worship of the ancient Middle East.  For example, the following comes directly from the website of a Wiccan named Lady Bridget…
La Baal Tinne, Beltane, Beltain, all are names for the ritual which was traditionally held on May 1st, also known as May Day. The astrological festival occurs when the Sun reaches 15 ° Taurus, which lately has been happening more towards May 4-6th. Either the traditional date or the astrological date can be used to determine when to hold your festival as both will have significant energies for the season.

And the season is Spring! The lusty month of May is called so for a reason! Watch the animals, they are "rutting" now, looking to attract mates to raise their families. Butterflies and insects are pollenating flowers all over, and trees are bursting into blossoms and new green growth. In spring, "the young man's fancy turns to love.." and the young girls fancies turn to young men!

Beltane, named for the Celtic Sun God, Bel, or Bal, or Baal, also means Bale, to banish, as in the bale fires, which are lit on Beltane to cleanse and purify. Cattle were led between two fires to cleanse them, and I have heard theories that the Druids quite possibly may have put purifying herbs on the fires to physically help the process along, but there is no actual proof of this.
And here is another example that comes directly from wiccazone.net…
The post Happy Beltane? Temple Of Baal In New York Is Going Up Just Before Baal's Biggest Day Of The Year appeared first on Silver For The People.
Thanks to BrotherJohnF