Be prepared for the next great transfer of wealth. Buy physical silver and storable food.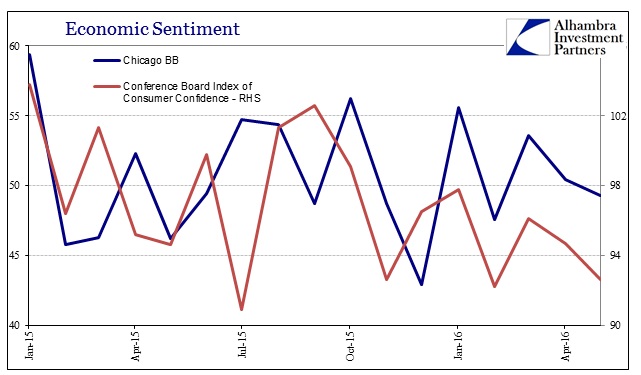 davidstockmanscontracorner.com / by Jeffrey P. Snider • 
The ISM Chicago Business Barometer PMI fell back below 50 again in May, the ninth time in the past sixteen months that the index came out under the supposed dividing line. It is more likely, however, that US businesses especially in manufacturing just don't know what to make of the past year and a half or so, and have switched more so to being cautious (even more than they already had been throughout this "recovery"). With the index average hovering right around 50, that might be the only way to interpret the violent mood swings in manufacturing sentiment in the Midwest.
According to MNI Chief Economist Philip Uglow:
Firms ran down stocks at the fastest pace for more than 6 years in May, and while a rebuilding over the coming months could support output, the underlying message appears to be that businesses are not confident about the outlook for growth.
It is rather amazing that the PMI could suffer such a huge setback and then remain under conditions of such stasis for so long. The Chicago BB started 2015 at 59.4, which the mainstream took as a forward indication that Yellen was right about "transitory" weakness. Unfortunately, the very next month, February 2015, the index dropped precipitously to 45.8. Since then, monthly volatility has been the operative condition in what can only be a war between believing Yellen and the business reality of this economy.
The post Mood Swings—–The Chicago ISM's Got Vertigo appeared first on Silver For The People.
Thanks to BrotherJohnF