wallstreetexaminer.com / by D.R. Barton, Jr. via Money Morning / 
Investors and traders could be forgiven for calling this market downright boring, but the truth is, for technical guys like me, we're living through an unprecedented, historic moment.
You see, I looked all the way back to the Camelot days of John F. Kennedy nearly 55 years ago and failed to find another instance of range-bound, "tight" markets enduring for so long.
There are some serious implications in this record low volatility, but before I jump into what this means for investors, let me show you just how strange these persistent doldrums look on my charts…
There's No Historical Precedent for "the Box"
Let's take a look at a chart of the S&P 500 showing the tight-range box that has plagued us for weeks: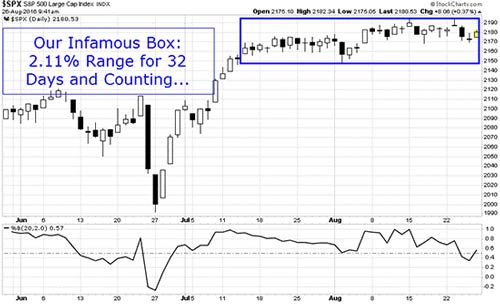 The post It's Official: Markets Have Never Been So Tight appeared first on Silver For The People.