wallstreetexaminer.com / by Cameron Saucier • 
This is a syndicated repost courtesy of Money Morning – We Make Investing Profitable. To view original, click here. Reposted with permission.
Speculative trading on so-called long contracts, or long-term bets that the markets will rise, has reached a startling high this year.
On Wednesday, analyst David Rosenberg at Gluskin Sheff found that speculative long contracts on the Dow reached a record high of 38,382. Long contracts for the S&P 500 also hit their highest level since June 2013 at 38,083, according toYahoo Finance.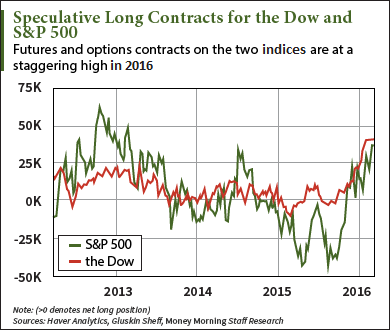 The post [Chart] Speculative Trading on U.S. Markets Is at a Dangerous High appeared first on Silver For The People.