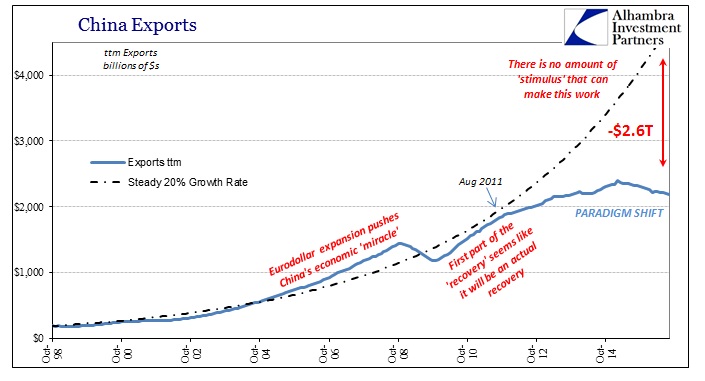 davidstockmanscontracorner.com / by Jeffrey P. Snider • 
The US is not alone in its corporate profit slump. In China, profits at State-Owned Enterprises fell a further 6.5% year-over-year in the January to July period. Estimated to have been RMB 1.31 trillion (about $195 billion), SOE profits are being dragged down by those firms under control of the central government. Locally-administered SOE's showed net income declining by only 0.3% in the period, whereas the larger, central SOE's reported a 9% contraction Y/Y.
These results aren't surprising given China's economic condition, an unending slowdown now dragging into its fifth year. But more than that, this state-structured economic framework is being used once more this year to try to help cushion the blow from the lack of demand that once drove its vast industrial/export engine. Some economists continue to believe that the country is transitioning to an internal, consumer-oriented "model" but the economic results and the pressure that central authorities are putting on especially SOE's and the overall state-administered sector suggest otherwise.
China is an industrial economy and will sink or float based on global demand for its products. Contrary to economists here (or anywhere, really), the Chinese know very well that Janet Yellen's economy is a myth, a figment conjured by parsing an often intentionally incomplete economic account (the unemployment rate and "professional forecasters"). Despite the profit pains, the Chinese government has been pushing the state sector to invest where the private sector now openly refuses.
This is a huge problem and again it belies the notion that it is simply an economy in transition. The government's state-run news site, China Daily, is very explicit about what is now China's growing investment problem.
The post Red Ponzi Keeps Sinking—-Despite Beijing's Desperate Efforts To Goose State-Owned Enterprizes appeared first on Silver For The People.