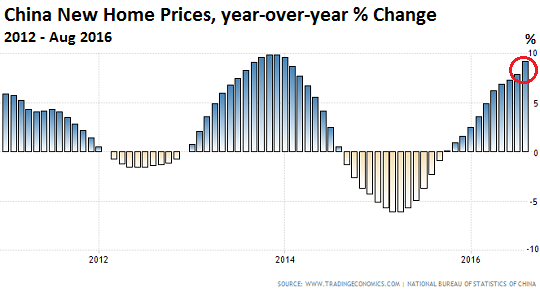 wolfstreet.com / by Wolf Richter / 
The governor of the People's Bank of China chimes in.
All kinds of officials are fretting about the dangers of the housing bubble in China that has been fueled by easy credit that officials have made available last year to stop the implosion of the prior housing bubble.
City by city, they're grappling with this problem, trying to put a lid on it. Caixin Online reports:
About 20 Chinese cities tightened home purchasing requirements in late September to cool an overheated market, with some prohibiting property developers from selling homes to residents who don't have a local hukou, or residency registration, and to those who already own more than one home. Other cities have raised the minimum down payment required.
But easy credit still rules: Total new loans in August reached 948 billion yuan ($142 billion). Over 71% of this debt was taken out by households, mostly mortgages.
The post "Credit Squeeze" Planned in China to Deflate Housing Bubble? appeared first on Silver For The People.