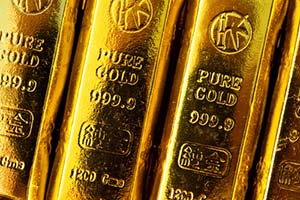 wallstreetexaminer.com / by Peter Krauth • 
This is a syndicated repost courtesy of Money Morning. To view original, click here. Reposted with permission.
The price of gold per ounce continues to be volatile, and gold spent much of the past week searching for direction.
Gold prices have faced a formidable headwind this month in the U.S. dollar. In fact, the dollar has been one of the few rare assets that has been climbing, along with oil.
The S&P 500 is down 1.35% since Monday, and long-term bonds continue to sell off. Is the Fed finally getting what it wants? Is it going to get higher rates, or at least the expectation of inflation?
That's how it looks right now. With a fresh set of Fed minutes released this week, the dollar rose in anticipation, while bonds sold off along with stocks.
The post What's Next for the Price of Gold per Ounce appeared first on Silver For The People.