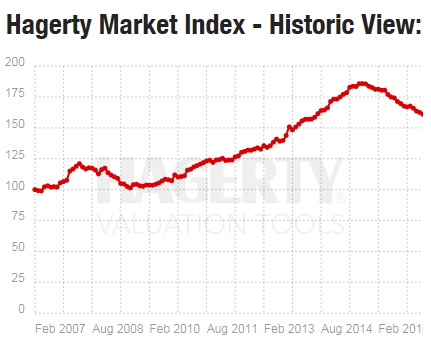 wolfstreet.com / by Wolf Richter /  
The asset class of Beautiful Machines heads south.
Prices of collector cars fell again, according to the April report by Hagerty, which specializes in insuring vintage automobiles. After a tremendous price surge that peaked in 2015, they've been ratcheting their way down ever so slowly. But it adds up after a while.
The "Hagerty Market Rating Index" – which tracks the "heat" of the market – fell 0.33 points to 66.65 in April. The index, which is adjusted for inflation, is now down 7.4% from its all-time high of 71.99 in May 2015. Here are more clues from Hagerty's report:
The number of owners expressing the belief that the values of their vehicles are rising continues to fall. The number is at its lowest since November 2013 for owners of mainstream vehicles and at its lowest since May 2012 for owners of high-end vehicles.

Expert sentiment dropped for the first time since November. Market observers have cited that many cars with prior auction results have been changing hands for less money than in the past.
The post What the Heck's Going On with Classic Cars? appeared first on Silver For The People.