This is rich with irony. Here's an active forum on Reddit where ANTIFA degenerates discuss committing acts of violence against nazis. Again, and for the record, Le Fly supports all forms of violence, especially for superficial reasons. The laughable part of what this homo is saying below, is that he's upset that right wingers have unveiled the identity of a fellow criminal.
He's now so beset with anguish over there being consequences for his cowardly assaults, that he's contemplating quitting altogether, until they can get their shit sorted out. This form of stupidity shouldn't be tolerated. He deserves to be impaled by the Based Stickman.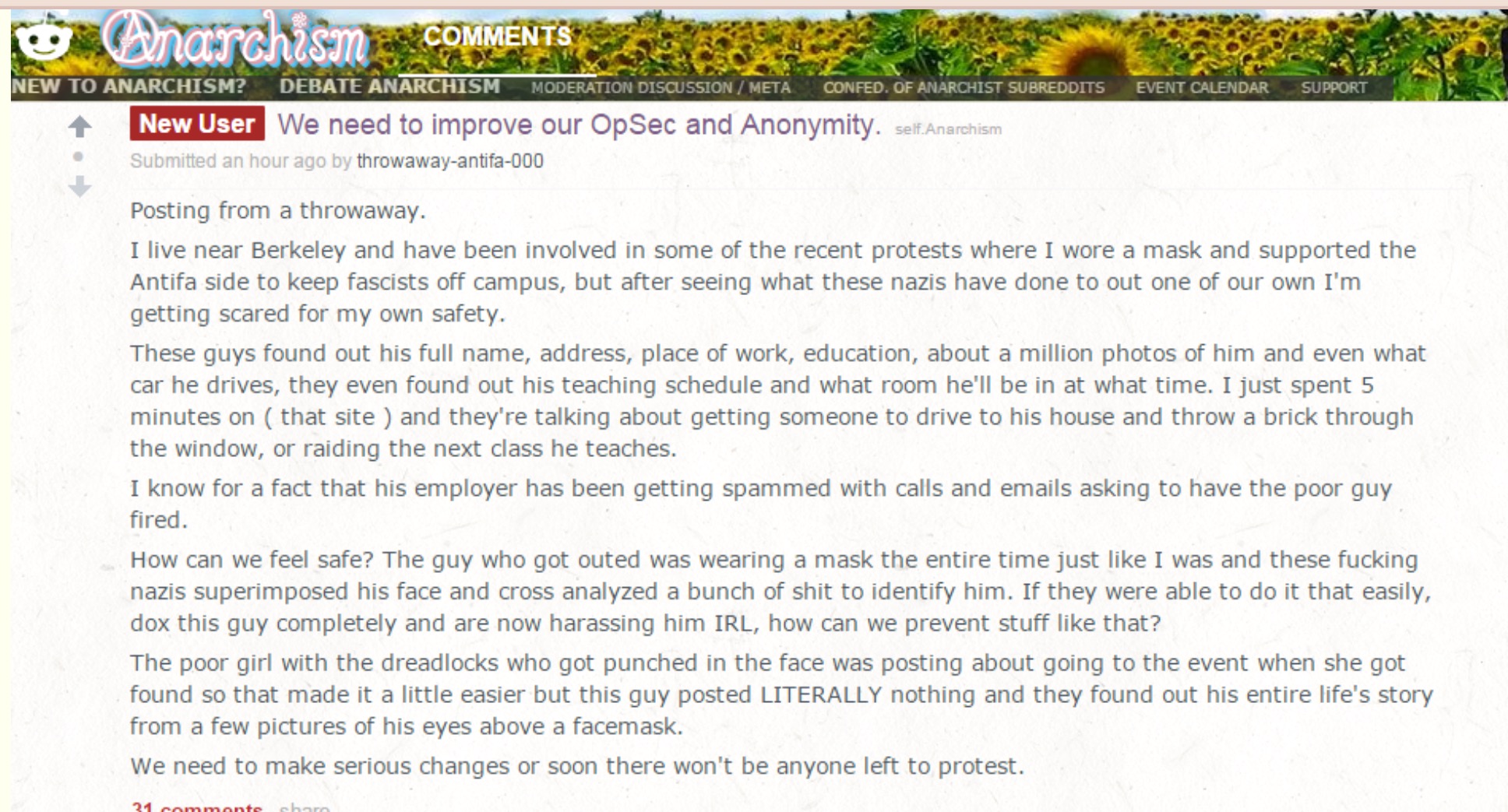 This all stems from the incredible investigative work done by people on 4chan, who deduced the identity of the bike lock guy, potential mass murderer, just by the boots on his feet, bag on his back, and pen in is pocket.
Pol is systematically unmasking Antifag felons. Enjoy your stay in prison. Good look punching the real nazis inside there. pic.twitter.com/ZPzTEHNydM

— The_Real_Fly (@The_Real_Fly) April 20, 2017
The investigation to find the bike lock scum has been concluded. pic.twitter.com/aQDewl4ZBT

— The_Real_Fly (@The_Real_Fly) April 20, 2017
Pol concludes bike lock attempted murderer is… pic.twitter.com/4CE6oSbzdr

— The_Real_Fly (@The_Real_Fly) April 20, 2017
By the looks of it, the Marxist potential mass murderer is now dutifully unemployed from the college he was gainfully employed.
It looks like the attempted mass murderer, the bike lock Antifa scum, has been fired. pic.twitter.com/RyMAQ8WJQl

— The_Real_Fly (@The_Real_Fly) April 22, 2017
Many of these Antifa scum are being unveiled as college professors. What a shock.
Here's a list of donors to an ANTIFA front group.
List of Corporate Donors to Antifa Front Group BAMN pic.twitter.com/qMFwXoBe57

— Jack Posobiec ???????? (@JackPosobiec) April 22, 2017
If you're curious about the potential mass murder bike lock guy, here's what he did.
Content originally published at iBankCoin.com