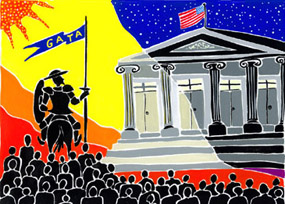 gata.org / By Blessed Mhlanga / Sunday, May 14, 2017
https://www.thestandard.co.zw/2017/05/14/black-market-thrives-banks-run-…
Harare's Road Port has become the unofficial bank of last resort, never short of cash, no queues, and a multicurrency platform.
The money market at this busy bus terminus now plays the role that the formal banking sector has failed. It is effectively making a mockery of the Reserve Bank of Zimbabwe (RBZ).
Bundles of bond notes, hard United States dollars, and the South African rand openly exchange hands here without any fear of the police who mill around everywhere.
Most of the dealers are poor and do not own the huge heaps of money that they carry around. The money belongs to some big shots in the corridors of the financial institutions, government, and business owners — mostly Chinese nationals who pour hard cash on the market every day.
The post Report from another gold-rich country insisting on being poor appeared first on Silver For The People.