wolfstreet.com / by Wolf Richter • 
Just as the deflating Farmland bubble leaves its marks.
When it comes to agricultural debt, the numbers aren't huge enough to take down the global financial system. But this shows how much pain the commodities rout is producing in the farm belt just when the farmland asset bubble that took three decades to create is deflating, and what specialized lenders and the agricultural enterprises they serve – some of them quite large – are currently struggling with in terms of delinquencies.
This is what delinquencies on loans for agricultural production – not including loans for farmland, which we'll get to in a moment – look like: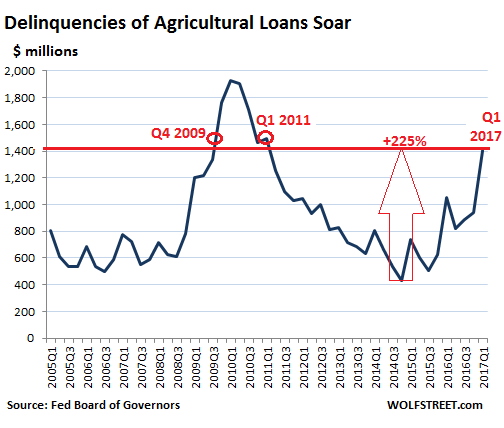 The post Commodities Bust Hits Farm Lenders, Delinquencies Surge 225% appeared first on Silver For The People.