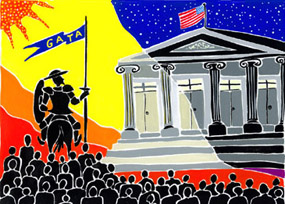 gata.org / By Sankalp Phartiyal and Rajendra Jadhav / Saturday, June 3, 2017
MUMBAI — India will tax gold at a rate of 3 percent under a new nationwide sales tax that comes into effect on July 1, the government said today.
The goods and services tax on gold, which was lower than industry expectations of around 5 percent, will replace a number of federal and state levies.
"In the case of gold, keeping various factors in mind, because there was an extensive debate. … We finally reached a consensus of taxing gold at 3 percent," Finance Minister Arun Jaitley told reporters in New Delhi after a meeting of the GST Council. …
The India head of the World Gold Council said the government's decision on gold was an encouraging step and would help stabilise an industry in which millions are employed.
But with customs duty of 10 percent, the total tax on gold is still high and will continue to have an impact on the jewellery industry, Somasundaram PR, managing director, India, World Gold Council, said in a statement. …
The post India to levy 3% tax on gold under new regime; industry relieved appeared first on Silver For The People.