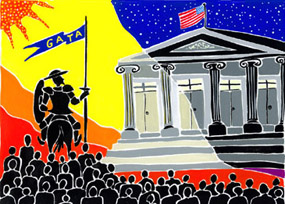 gata.org / By Lulu Yilun Chen and Camila Russo / Tuesday, July 25, 2017
Richard Liu gave up a seven-figure salary this month to get into one of the hottest financial instruments around right now: initial coin offerings. The former China Renaissance deal maker has since backed a clutch of cryptocoin sales that have raised millions — sometimes in seconds — often without a single product.
From Hong Kong and Beijing to London, accomplished financiers are abandoning lucrative careers to plunge into the murky world of ICOs, a way to amass quick money by selling digital tokens to investors sans banks or regulators. Cut out of the action, a growing cohort of banking professionals are instead applying their talents toward buying or hawking cryptocurrency.
They are going in with eyes wide open. For Liu, who put together some of China's biggest tech deals in his old job, the chance to shape the nascent arena outweighs the dangers of a market crash or crackdown. Loosely akin to IPOs, ICOs have raised millions from investors hoping to get in early on the next bitcoin or ether, and their unchecked growth over the past year is such that they have drawn comparisons to the first ill-fated dot-com boom. Yet with stratospheric bonuses largely a thing of the past, the allure of an incandescent new arena far from financial red-tape has proven irresistible to some. …
The post Bankers ditch fat salaries to chase digital currency riches appeared first on Silver For The People.