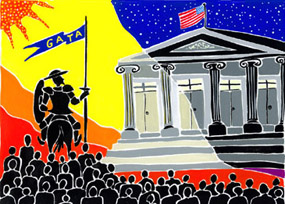 gata.org / By Paul Garvey / Saturday, July 29, 2017
In a vault deep in the basement of the Reserve Bank's Martin Place headquarters in Sydney sits a hoard of gold bars worth about $US500,000 each — all four of them.
The Reserve Bank of Australia now holds almost the entirety of the nation's gold in vaults administered by the Bank of England.
To add insult to injury to the nation's gold devotees, the vaults are stuffed full of the redesigned $10 polymer banknotes awaiting official release in September.
The post 'Pretty much ever since Australia sold its gold, it's been on the up' appeared first on Silver For The People.