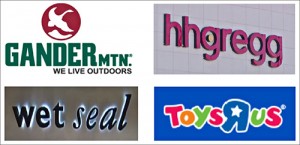 wallstreetonparade.com / By Pam Martens and Russ Martens / September 20, 2017
According to S&P Global Market Intelligence, there have been 35 retail bankruptcies this year, almost double the 18 retail bankruptcies of last year. The filing by Toys 'R' Us this week was the latest.
What many of these retailers have in common is that they were taken private in leveraged buyouts (LBOs) by private equity (PE) firms. Toys 'R' Us, Payless ShoeSource, The Limited, Wet Seal, Gymboree Corp., rue21, and True Religion Apparel were all LBOs. Gander Mountain can also be included in this list if you reach back to its 1984 LBO. Far too many LBOs are simply asset stripping operations by Wall Street vultures who load the company with enormous debt, then asset strip the cash from the company by paying themselves obscene special dividends and management fees.
On June 12 of this year, the official committee of unsecured creditors to Payless, consisting primarily of Payless stores' landlords and vendors, alleged in a filing in U.S. bankruptcy court that the private equity firms involved in the Payless LBO in 2012, Golden Gate Capital and Blum Capital, had "siphoned over $400 million out of Payless. Lawyers for the unsecured creditors wrote the following in their objection:
"The Sponsor Group [Golden Gate Capital and Blum Capital] acquired the Debtors [Payless, et al] in October 2012 through a leveraged buyout (the '2012 LBO') which increased the Debtors' debt from approximately $125 million as of the fiscal year end immediately prior to the leveraged buyout to approximately $400 million.  After the 2012 LBO, the Sponsor group siphoned over $400 million out of the Debtors…
The post How Many of 2017's Retail Bankruptcies Were Caused by Private-Equity's Greed? appeared first on Silver For The People.