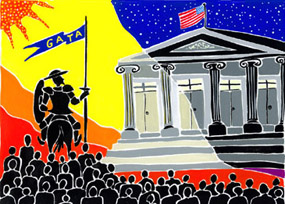 gata.org / CHRIS POWELL / December 2, 2017
Dear Friend of GATA and Gold:
The investment world has gone mad, Brandon White of Bullion Management Group in Markham, Ontario, says in his weekly video, "This Week in Three Minutes," noting extreme valuations in equity markets and bitcoin and the strange disappearance of market corrections.
White says he has asked the Bank of Canada and other Canadian financial institutions to explain their position on gold as a financial asset. He also announces a contest for a 1-pound silver commemorative coin.
White's video is posted at the BMG internet site here:
http://bmg-group.com/this-week-in-3-minutes/
The post Brandon White: Where does the Bank of Canada stand on gold as an asset? appeared first on Silver For The People.